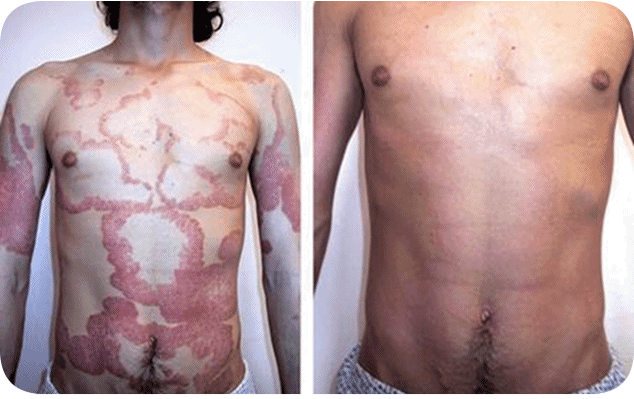 According to Ayurveda, the skin has six layers, located not only superficially but extending to the deeper levels of the body. A skin disease is, mostly, rooted deeply into various dhatus or tissues like fat, muscles, blood etc. Most skin treatments are generally external applications like creams or oils. These, however, never reach the deeper layers of the skin. As a result, the symptoms disappear temporarily, and the disease is not rooted out permanently. Ayurveda always tries to root out the disease by treating it specifically according to its cause. As the disease is deepseated it is difficult to fix the problem quickly. Ayurvedic skin treatments may take a few weeks to remove the symptoms but the diseases are treated permanently.
Causes
          Two of the main causes of diseases in Ayurveda are a wrong diet and lifestyle, which an individual follows either knowingly or unknowingly. Following a diet or life style that is against the season or the prakriti (nature) of a person, creates an imbalance in bodily energies, thus contaminating the body tissues to produce a skin disease. In Ayurvedic terms, although skin diseases are caused due to imbalances in all the three doshas, the prime dosha involved is pitta. Pitta symbolizes heat or fire. Therefore all those foods or activities that increase the fire element in the body should be eliminated. This includes hot, spicy, fried, oily and greasy foods. Acidic foods like tomatoes, citrus fruits, yogurt and vinegar should be avoided. Exposure to heat and sun, drinking too much tea, coffee, and alcohol, and smoking also aggravate the pitta.
          The months of July and August represent the varsha ritu or the rainy season. According to Ayurveda, this is the time for pitta aggravation. All the heat that accumulates in the body in the greesham ritu (summer season) is aggravated in the rainy season. There are a number of skin diseases prevalent in the rainy season. Especially in India, this is the time when one can see big crowds in skin clinics. A simple knowledge of Ayurveda can help us prevent and even treat painful skin disorders.
          Removing the root cause is the main line of treatment in Ayurveda. Therefore eliminating all the foods and activities that increase pitta is the main treatment. There are many skin diseases like eczema, allergic dermatitis, chronic fungal infection, skin allergies, sun burns, chill allergy and other skin diseases, which do not have any known treatment in allopathy. With the help of steroids one can just suppress the symptoms but not cure. In Ayurveda, we have well established & result oriented treatments. We have a data for diseases like vitiligo, psoriasis, eczema, dermatitis and many morewhich are treated & cured at our centre with the help of purely herbal base Ayurvedic medicines. No known side effect is seen with these herbs .
          Neem, Sandalwood, Manjistha are some of the common herbs that are useful for treating several skin conditions and maintaining healthy skin.